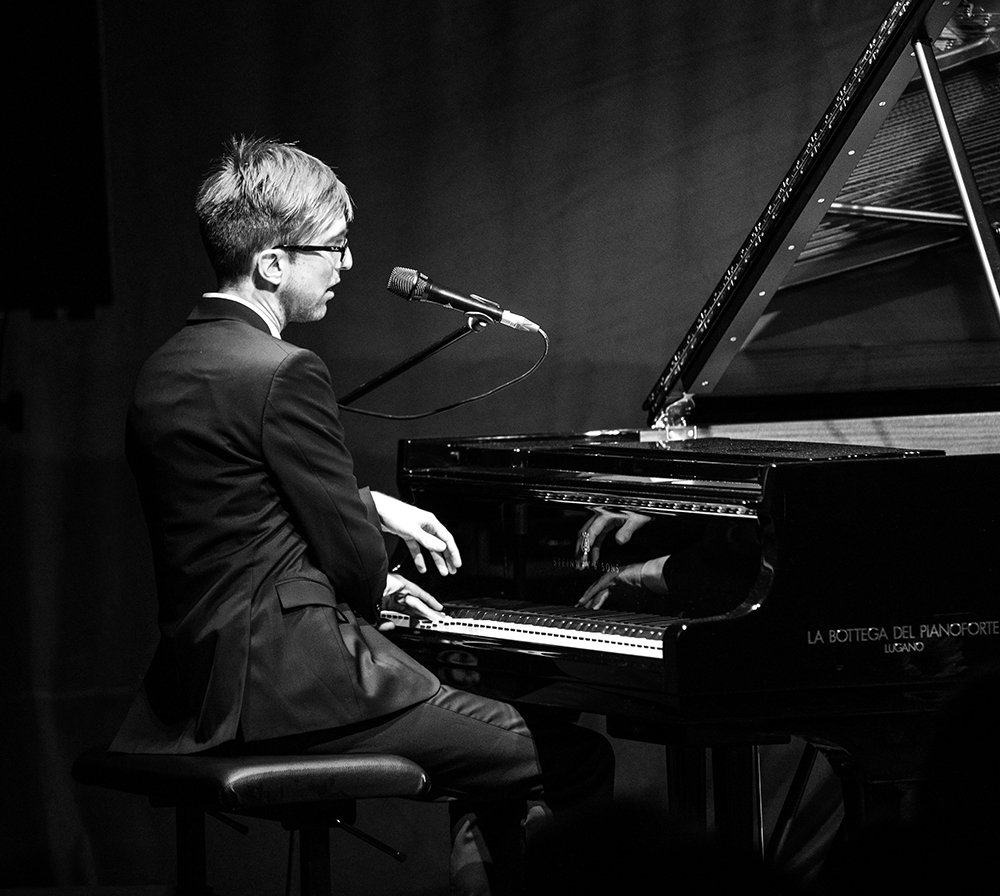 HAVE A LISTEN
Find my music here:
LEBEWOHLFABRIK, ZÜRICH

20:00

Lebewohlfabrik, Zürich

RJ & Christoph Grab | Karte

SEERHEIN JAZZ, GOTTLIEBEN

19:00

Hotel Porto Sofie, Gottlieben

ALTI GERBI, OBERUZWIL SG

20:00

Alte Gerbi, Oberuzwil

MOODS, ZÜRICH

20:30

Moods im Schiffbau

MOODS, ZÜRICH

20:30

Moods im Schiffbau

SUVRETTA HOUSE, ST. MORITZ

19:00

Suvretta House, St. Moritz
RAPHAEL JOST TRIO / QUINTET
"Raphael Jost is that rarest of birds: A singer/songwriter with a great voice and great songs, who's also an instrumentalist capable of sharing the stage with the best. Jost is the complete package." - Will Vinson (British Jazz saxophone player)

He's a singer, pianist, song-writer, arranger and band leader and was honoured with the Swiss Jazz Award – there's no doubt: Raphael Jost can be described as an exceptional talent. He's got a surprisingly powerful and warm voice and knows how to blur the boundaries between jazz and pop.

Jost presents swinging Jazz standards as well as his own original songs in which he proves a great sense for catchy melodies and his undoubted skills as an arranger. He enjoys crooning like Frank Sinatra and at the same time isn't afraid of giving a complete overhaul to some of his favourite pop songs - always surrounded by a groovy rhythm section and, with his quintet, a horn section consisting of two outstanding soloists. Together they delight the audience with a vivid interplay and their energetic swing feel.

Trio:
Raphael Jost - voc, piano
Raphael Walser - double bass
Jonas Ruther - drums

Quintet:
+
Lukas Thoeni - trumpet / flugelhorn
Christoph Grab - tenor sax


RAPHAEL JOST & LOTS OF STRINGS
Writing and performing with a string orchestra is a long-held dream of Raphael Jost which became reality last year when he performed two short concerts with strings for the first time ever. The rich and multi-faceted string sound adds a new sonic dimension to Jost's music and blends extraordinarily well with his voice.
Currently, he's writing a brand new full-length concert program which will premiere at Jazztage Langenthal in October. Jost blurs the boundaries between styles and presents new original songs and surprises with refreshing cover versions - and a pinch of Sinatra will not be missing either.
RAPHAEL JOST TRIO PLAYS NAT KING COLE
Unforgettable - that's what many Nat King Cole classics are. And so is his legendary "drummer-less" trio with vocals/piano, guitar and double bass. In this formation, Raphael Jost, Oliver Keller and Raphael Walser breathe fresh air into Cole's music - with irrepressible joy of playing and lots of swing.
Line-Up:
Raphael Jost - voc, piano
Oliver Keller - guitar
Raphael Walser - double bass
Raphael Jost (*1988) grew up in northeastern Switzerland. He completed both his Bachelor's and Master's degrees at the ZHdK (Zurich University of the Arts), majoring in jazz piano and singing as a minor subject. This is where his formation "Raphael Jost & lots of horns" started. As the best bachelor project in 2011, the band was invited to play at the Montreux Jazz Festival. His instinct for catchy melodies, his virtuosity on the piano, and his skill as an arranger are his outstanding qualities. Raphael was honoured with the Soloist Prize of the European Young Artists' Jazz Award in Burghausen (Germany) in 2012 and won the Swiss Jazz Award three years later.

As a teenager, Raphael would never have thought that he would someday fall in love with jazz. Elton John or Michael Jackson were the interpreters of the songs he played on the piano at that time. It was the British singer and pianist Jamie Cullum and his mix of jazz and pop that opened up a new musical world for him and aroused his enthusiasm for singing.

With his own bands, Raphael Jost has performed at the Montreux Jazz Festival, Cheltenham Jazz Festival, Jaffa International Jazz Festival Tel Aviv, Bingen Swingt Festival, the Schaffhauser Jazzfestival, Festival Da Jazz St. Moritz and many more concerts across Central Europe, Sweden and Japan.
Viril ist seine Stimme, ungebrochen wirkt sie, ist zugleich in der Lage, cool und lässig zu swingen. Und sie hat auch ein gehöriges Quäntchen Rauheit drin und klingt so, als habe der, der sie besitzt, auch schon mal einen Whiskey getrunken und als sei er nicht nur ein Ministrant.

Raphael Jost ist ein Phänomen: Virtuoser Pianist, begnadeter Sänger, dazu ein gewitzter Charmeur.

Raphael Jost is that rarest of birds: A singer/songwriter with a great voice and great songs, who's also an instrumentalist capable of sharing the stage with the best. Jost is the complete package.

Ich habe Raphael Jost zum ersten mal gesehen, aber er hat mich live restlos überzeugt. Er hat eine tolle Stimme, schreibt eigene, originelle Arrangements und sein Umgang mit Jazz-Standards ist für ein Musiker seines Alters sehr erstaunlich. Dabei kopiert er nicht einfach Sinatra und andere Grössen, sondern gibt der Musik eine eigene Note. Dazu kommt ein kräftiger Schuss Entertainment. Ich bin überzeugt, dass wir von ihm noch sehr viel hören werden.

Er weiss, wie man runde Songs schreibt - jazzig und doch radiotauglich

Damit wollen wir auch auf die grosse Zukunftsperspektive dieses Ausnahmetalents hinweisen.

Begeistert vom Publikum gefeiert wurde der junge Schweizer Sänger und Pianist Raphael Jost.

Gleich nach den ersten Takten hatte sich der Schweizer in die Herzen der Zuhörer gespielt - und gesungen. Dafür sorgte eine gute stimmliche Präsenz und ein sympathisches Auftreten. Ob mit Balladen oder etwas flotteren Stücken: die Spielfreude war den Eidgenossen anzumerken und übertrug sich auf das Publikum.
SIGN UP TO OUR MAILING LIST