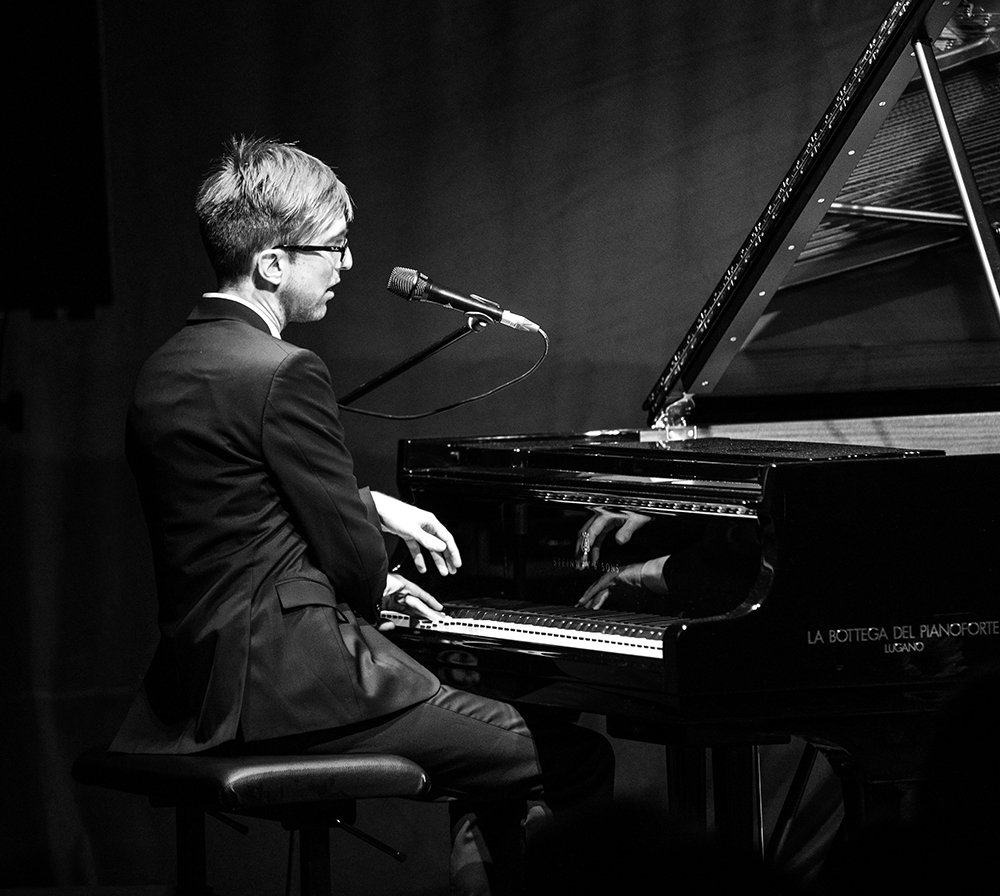 HAVE A LISTEN
Find my music here:
LEBEWOHLFABRIK, ZÜRICH

19:00

Lebewohlfabrik, Zürich

KULTURPLATZ, DAVOS

20:00

Kulturplatz, Davos

Raphael Jost & lots of horns | Info

SCHWEIZERISCHE BOTSCHAFT, BERLIN (DE)

Schweizerische Botschaft, Berlin (DE)

KULTURTREFF ERLENBACH

20:00

Erlenbach

Duo Sandra Studer & Raphael Jost

JAZZCLUB THALWIL

20:00

tba

Zurich Jazz Orchestra feat. Sandra Studer & Raphael Jost

LOKREMISE, BUCHS SG

tba

Lokremise, Buchs

LOKREMISE, BUCHS SG

tba

Lokremise, Buchs

STADTTHEATER, LINDAU (DE)

19:30

Stadttheater, Lindau

ROCK-XMAS, WATTWIL

21:00

Wattwil

HABERHAUS, SCHAFFHAUSEN

20:30

Haberhaus, Schaffhausen

RJ's Swingin' Christmas | Karte

SUVRETTA HOUSE, ST. MORITZ

19:15

Hotel Suvretta House, St. Moritz

KEYNOTE JAZZ, ZUG

tba

Casino, Zug
RAPHAEL JOST & LOTS OF HORNS / QUINTETT
"Raphael Jost is that rarest of birds: A singer/songwriter with a great voice and great songs, who's also an instrumentalist capable of sharing the stage with the best. Jost is the complete package." - Will Vinson (British Jazz saxophone player)

He's a singer, pianist, song-writer, arranger and band leader, only 29 years of age and in 2015 he was honoured with the Swiss Jazz Award – there's no doubt: Raphael Jost can be described as an exceptional talent. He's got a surprisingly powerful and warm voice and knows how to blur the boundaries between jazz and pop better than anyone else.

With his "lots of horns"-band Jost presents mostly original songs in which he proves a great sense for catchy melodies and his undoubted skills as an arranger. He enjoys crooning like Frank Sinatra and at the same time isn't afraid of giving a complete overhaul to some of his favourite pop songs - always surrounded by a horn section consisting of five outstanding soloists which all together are able to sound like a massive big band.

Line-Up:
Raphael Jost - voc, piano
Lukas Thoeni - trumpet / flugelhorn
Florian Egli - alto sax / flute
Christoph Grab - tenor sax
Lukas Wyss - trombone
Nils Fischer - baritone sax / bass clarinet
Raphael Walser - double bass
Maxime Paratte - drums
RAPHAEL JOST STANDARDS TRIO
Raphael Jost, Raphael Walser and Jonas Ruther – three aspiring young musicians who have all made their mark on the Swiss jazz scene. They all write and arrange songs for their bands but together they share one big passion: The interpretation of standards in a manner that is rather unusual for musicians at their age.

Some of the most outstanding piano trios in jazz history such as Monty Alexander's, Oscar Peterson's or Ahmad Jamal's act as models when Jost, Walser and Ruther are about to revive those old songs with playful ease. With more than hundred concerts together, they delight the audience with a vivid interplay and their energetic swing feel.

The fact that pianist Raphael Jost is also a talented singer reminding of legends like Nat King Cole or Frank Sinatra makes this trio a band that has no equal among the Swiss musical landscape.

Line-Up:
Raphael Jost - voc, piano
Raphael Walser - bass
Jonas Ruther - drums
Raphael Jost (*1988) grew up in northeastern Switzerland. He completed both his Bachelor's and Master's degrees at the ZHdK (Zurich University of the Arts), majoring in jazz piano and singing as a minor subject. This is where his formation "Raphael Jost & lots of horns" started. As the best bachelor project in 2011, the band was invited to play at the Montreux Jazz Festival. His instinct for catchy melodies, his virtuosity on the piano, and his skill as an arranger are his outstanding qualities. Raphael was honoured with the Soloist Prize of the European Young Artists' Jazz Award in Burghausen (Germany) in 2012 and won the Swiss Jazz Award three years later.

As a teenager, Raphael would never have thought that he would someday fall in love with jazz. Elton John or Michael Jackson were the interpreters of the songs he played on the piano at that time. It was the British singer and pianist Jamie Cullum and his mix of jazz and pop that opened up a new musical world for him and aroused his enthusiasm for singing.

With his own bands, Raphael Jost has performed at the Montreux Jazz Festival, Cheltenham Jazz Festival, Jaffa International Jazz Festival Tel Aviv, Bingen Swingt Festival, the Schaffhauser Jazzfestival, Festival Da Jazz St. Moritz and many more concerts across Central Europe, Sweden and Japan.
Viril ist seine Stimme, ungebrochen wirkt sie, ist zugleich in der Lage, cool und lässig zu swingen. Und sie hat auch ein gehöriges Quäntchen Rauheit drin und klingt so, als habe der, der sie besitzt, auch schon mal einen Whiskey getrunken und als sei er nicht nur ein Ministrant.

Raphael Jost ist ein Phänomen: Virtuoser Pianist, begnadeter Sänger, dazu ein gewitzter Charmeur.

Raphael Jost is that rarest of birds: A singer/songwriter with a great voice and great songs, who's also an instrumentalist capable of sharing the stage with the best. Jost is the complete package.

Ich habe Raphael Jost zum ersten mal gesehen, aber er hat mich live restlos überzeugt. Er hat eine tolle Stimme, schreibt eigene, originelle Arrangements und sein Umgang mit Jazz-Standards ist für ein Musiker seines Alters sehr erstaunlich. Dabei kopiert er nicht einfach Sinatra und andere Grössen, sondern gibt der Musik eine eigene Note. Dazu kommt ein kräftiger Schuss Entertainment. Ich bin überzeugt, dass wir von ihm noch sehr viel hören werden.

Er weiss, wie man runde Songs schreibt - jazzig und doch radiotauglich

Damit wollen wir auch auf die grosse Zukunftsperspektive dieses Ausnahmetalents hinweisen.

Begeistert vom Publikum gefeiert wurde der junge Schweizer Sänger und Pianist Raphael Jost.

Gleich nach den ersten Takten hatte sich der Schweizer in die Herzen der Zuhörer gespielt - und gesungen. Dafür sorgte eine gute stimmliche Präsenz und ein sympathisches Auftreten. Ob mit Balladen oder etwas flotteren Stücken: die Spielfreude war den Eidgenossen anzumerken und übertrug sich auf das Publikum.
SIGN UP TO OUR MAILING LIST